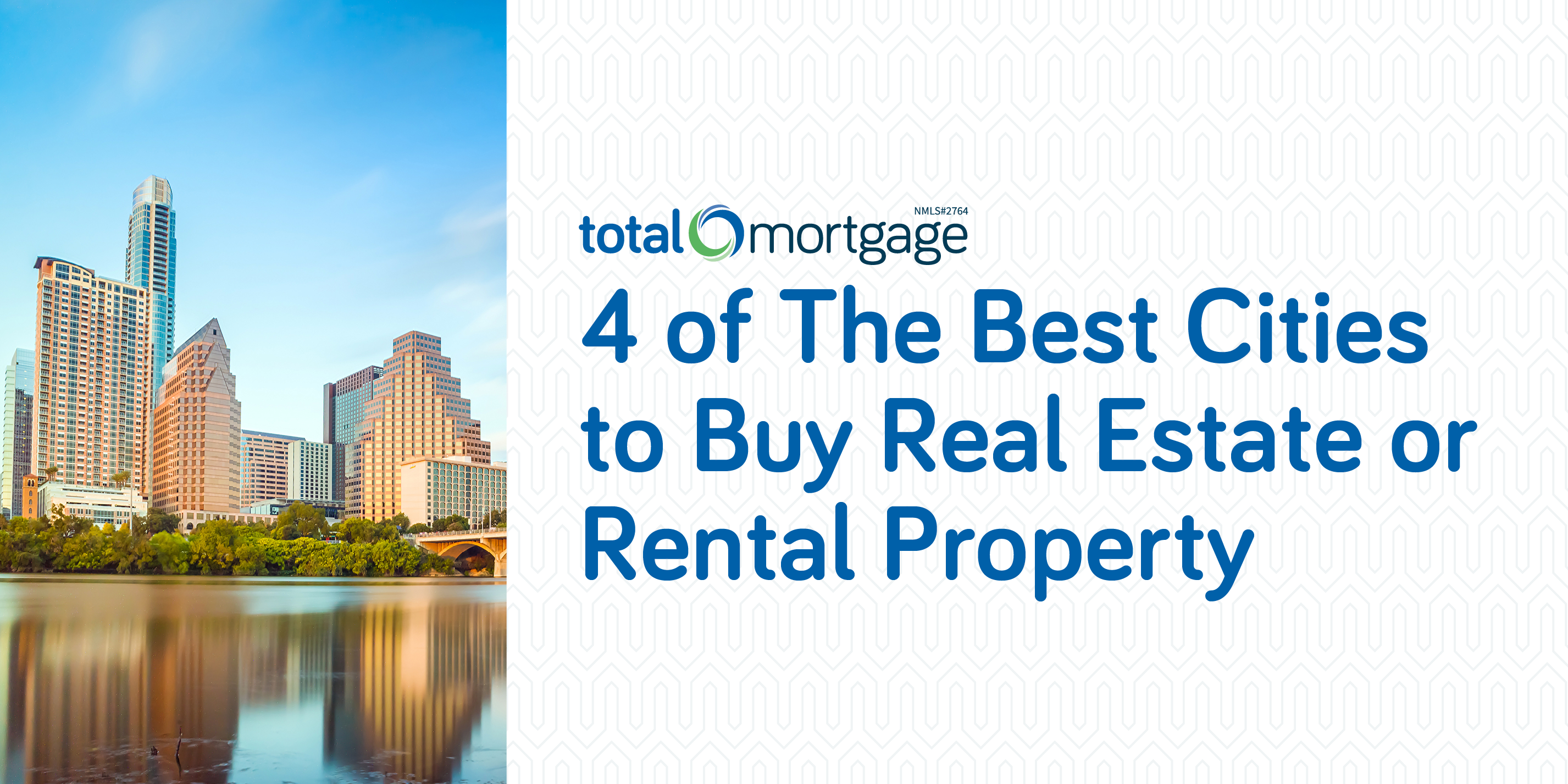 When it comes to real estate, the three most important words are location, location, and location. This is true whether you are buying a primary residence or a rental property as the location directly correlates with the type of income the house can generate.
Fortunately, there are features you can look out for to help you determine the best cities to invest in real estate. Let's get into the four best cities to buy real estate or rental properties today.
1. Austin, Texas
Austin, Texas is one of the best cities to buy real estate or rental property. Located in the heart of Central Texas, Austin is booming with technology innovation and is where companies like Dell and Tesla call home. This has led to more jobs and fueled demand for single-family rentals.
Austin is also attractive for its affordable home prices, which remain less expensive than other metropolitan cities despite recent increases. According to a report by CoreLogic, the city of Austin was among the leading 10 real estate markets for single-family rental increases on a year-over-year basis, with a 14 percent jump as of April 2022.
As the 11th most populated city in the United States, Austin is also known for its music scene, friendly people, and scenic rivers – most notably the Colorado River.
However, there are also some things to consider before investing in real estate in Austin. Due to an inadequate public transportation system, cars are necessary to get around the city. Summer temperatures can be blistering, running up into the triple-digits Fahrenheit. And rising home prices mean it is not for the faint of heart.
Reach out to a Total Mortgage loan expert today to help with your next investment property in Austin.
2. Charlotte, North Carolina
If you're looking for the best places to buy a rental property, consider choosing the Charlotte, North Carolina market. The city of Charlotte has been experiencing a population boom and rent prices have been on the rise. Known as the Queen City, Charlotte is also where roughly a dozen Fortune 500 companies call home, including major banks Bank of America and Wachovia. Charlotte is also known for its universities and top-notch hospitals.
However, the crime rate in Charlotte is higher than average compared to U.S. cities and income levels tend to be low.
As of March 2022, the median price for a home in Charlotte hovered at approximately $350,000 – a nearly 19 percent increase from 2021. Rental income, on the other hand, is also on the rise and has been a contributing factor to increased buying activity in Charlotte. As of early November 2022, average rent prices in Charlotte were $1,490, up four percent from the previous year according to Zumper data.
Find a Total Mortgage expert in the Charlotte, N.C. area to help you on your journey to buy real estate or a rental property today.
3. Miami, Florida
Miami is one of the hottest real estate markets in the US today. If you're on the hunt to find the best cities to buy an investment property, add Miami to your list.
In the wake of the pandemic, Miami remains a go-to location for renters looking to relocate to a warmer climate. Therefore, it is among the best places to invest in real estate. The supply/demand dynamic for apartments in southern Florida favors homeowners thanks to a perfect storm of high occupancy rates, low supply, and soaring lease renewal rates.
Miami's real estate market has proven resilient even throughout a broader economic slowdown in the United States. The city has several tailwinds helping it thrive, such as low taxes, favorable weather, and a "business-friendly environment". The luxury real estate market in particular remains robust thanks to a combination of "limited land availability and high home prices."
One of Miami's strengths is its staying power as a top city to invest in real estate. Property values in the city of Miami have increased by more than four percent annually over the past half-decade, according to Zillow data. On the flip side, finding a property at a discount might be difficult. You will own real estate in a city where the cost of living is high compared to many other U.S. cities. As a result, be sure to complete a thorough vetting process on potential tenants to ensure that they can afford the rent.
Total Mortgage has loan experts ready to help you find an investment property in Miami's white-hot real estate market today.
4. Nashville, Tennessee
According to a report by accounting giant PwC, Nashville is also among the best cities to buy real estate or rental property. The city of Nashville repeatedly makes its way onto PwC's list as its population grows hand over fist.
Nashville's housing inventory is considered modern as many homes were built after the turn of the century. Home construction is booming to keep up with the pace of demand for housing in the city. For example, single-family construction permits have been up eight percent since 2020.
With major companies like Amazon in Nashville, the job market is also attractive for renters and homeowners alike. The high-pay nature of these jobs is likely to buoy home prices in the city.
However, growth has been so robust that the city's infrastructure has failed to keep pace with the increase, which is something to consider even though it's one of the best places to buy a rental property. So if Nashville is on your list, you can expect traffic and a high cost of living.
Total Mortgage has offices located in the Nashville, Tenn. area. Reach out to a loan expert today to start you on your journey to buy real estate.
Explore Your Home Buying Options
Whether you're house hunting in Austin, Charlotte, Miami, or Nashville, Total Mortgage has a range of mortgage experts who can help.
Our loan officers can assist you in finding an investment property or residence in your favorite city. We are licensed across the country and can help get you into your dream home today. Find a Total Mortgage location in your neck of the woods and let us work with you on your home-buying journey.
---
Filed Under: Uncategorized