How a Repair Escrow Can Fix Your Dream House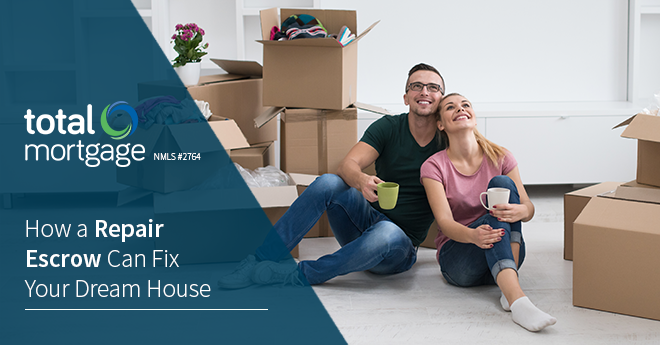 You've found a house that will fit you and your family perfectly. The one downside? The basement floods in heavy rains. Often, sellers have little interest in making major repairs, like installing new gutters and re-grading the yard. But if you go ahead and close anyway, you'll be stuck with a $15,000 repair bill.
What to do?
You can walk away and lose your dream house. Or you can try to negotiate a lower purchase price, but you'll still be out of pocket a fair chunk of change that won't come out of your mortgage. The best best solution might just be a repair escrow.
How Repair Escrows Work:
A repair escrow is an account set aside at closing to pay for the repairs the property needs to reach its full appraised value.
Here's how it works: in the case of our flooded basement, an appraiser will evaluate how much the repairs will increase the value of the property. The higher appraisal then allows the lender to increase your loan amount, provided you have demonstrated adequate income to cover the increase. That extra money from you lender goes into an escrow account set up at closing to pay for the needed repairs. When the work is completed, the funds are released and the escrow is closed.
Some other things to keep in mind:
You can also use a repair escrow to make it easier for the seller to make repairs. Instead of lowering the selling price, at closing the seller can set up a repair escrow with funds from the sale.
For homes that need a lot of work to come up to market standards, the lender will sometimes make loan approval contingent upon the buyer setting up a repair escrow at closing.
If the borrower funds the repair escrow, then any excess funds can be returned to the borrower. If the seller funded it, then any extra funds must be used to pay down the principal balance of the mortgage.
When the work is finished, your new home has increased in value and your monthly mortgage payments have increased only a few dollars. Best of all, you have a dry basement.
Other Repair Escrows :
Some repair escrows are actually incentives for owner occupant buyers of repossessed HUD homes. Many HUD houses are in need of some repair, but because of those deficiencies, they may not meet FHA guidelines and may be ineligible for FHA loans.
FHA repair escrows
FHA limits repair escrows to $5,000 in exterior or interior repairs, and they must be started within 90 days of the loan finalization and completed within one year. The 90-day period may be extended, at the discretion of HUD, for homes that need exterior repairs but are in an area experiencing inclement weather conditions.
FHA repair escrows are not allowed for certain types of work, even if the repair expense is under $5,000. Any work that is necessary for the home to be habitable is not permitted, because the home must be habitable for the initial loan to be approved. Roof, foundation and repairs to the home's basic structure cannot be included in a repair escrow.  Electrical systems, plumbing, and heating fuel systems are also ineligible.
HUD repair escrows
If the house is owned by HUD or a lender, an amount equal to 110 percent of the repair estimation can be put into the escrow. For other properties, the maximum escrow amount is 150 percent of the repair estimates.
HUD requires specific documentation prior to closing in order to establish a repair escrow. Two line-itemized bids from licensed contractors are needed, as well as a copy of the contractors' licenses, as well as a report from an FHA inspector detailing the work that is necessary.
The loan underwriter will determine the minimum escrow amount. HUD requires the amount to be at least equal to the higher of $500 or 150 percent of the repair cost. The party who will fund the escrow account must be identified by the underwriter on the escrow documents. Once the work is completed, the lender will need an inspection report certifying the repairs.
Fannie Mae and Freddie Mac may also require repair escrows on distressed sales and damaged properties. Contractors must submit plans and estimates in advance of closing and all repairs must be completed within 90 days of closing.
Steve Cook is managing editor of Real Estate Economy Watch, which was recognized as one of the two best real estate news sites of 2011 by the National Association of Real Estate Editors. Before he co-founded REEW in 2007, he was vice president of public affairs for the National Association of Realtors. In 2006 and 2007, he was named one of the 100 most influential people in real estate.
---
Filed Under: Borrower Tips
Tagged with: escrow, home repairs, repair escrows